Regular price
Sale price
RM39.90
Unit price
per
Sale
Sold out
Low stock
As the night draws to a close🌃, it's time for these mesmerizing Dressed In Black nails to show their true colors! Perfectly complemented with either an all-black look or an outfit of any other hue, these nocturnal-black nails will make you look ravishing 🖤
Free shipping for orders over RM100+

Fast and secure checkout

14-day money back guarantee*
INFORMATION

Design's a hit but the shape's a miss? No biggie! You can totally make 'em your own - just grab the nail filer that comes with your kit and buff away until you're shining like a star✨

WHAT YOU GET IN EACH NAIL PALETTE:

♡ Reusable nail palette featuring two compartments

♡ 28 nails in 14 inclusive sizes

♡ Nail Glue - for longer 2-3 weeks use

♡ Sticky Tabs - for shorter 4-7 days use

♡ Alcohol Pad

♡ Nail Filer

♡ Wooden cuticle stick
APPLICATION & REMOVAL

Application

Push back cuticle with wooden cuticle stick
Lightly buff nail with nail file
Clean & dry nail with alcohol pad
Choose sticky tab size that matches your natural nail size
Place sticky tab on your nail and then press on nails down starting from the cuticle and working towards the tip

OR

After step 1-3, generously apply nail glue on both your natural nail and press on nail
Press on nails down starting from the cuticle and working towards the tip, making sure no bubbles are trapped

Removal

Soak nails in warm water, soap and oil mixture for 10-15 minutes (Tip: Do not attempt to force or pull nails off)
Find a small gap and gently push the wooden cuticle stick underneath the nails until they lift off
SHIPPING INFORMATION

| | | | |
| --- | --- | --- | --- |
|  Destination | Shipping Fee | Min. Purchase for Free Shipping | Shipping Timeline |
| West Malaysia | RM6.90 | RM100 | 1-3 working days |
| East Malaysia  | RM18 | RM180 | 7-10 working days |
| Singapore | RM30 | RM300 | 5-8 working days |
View full details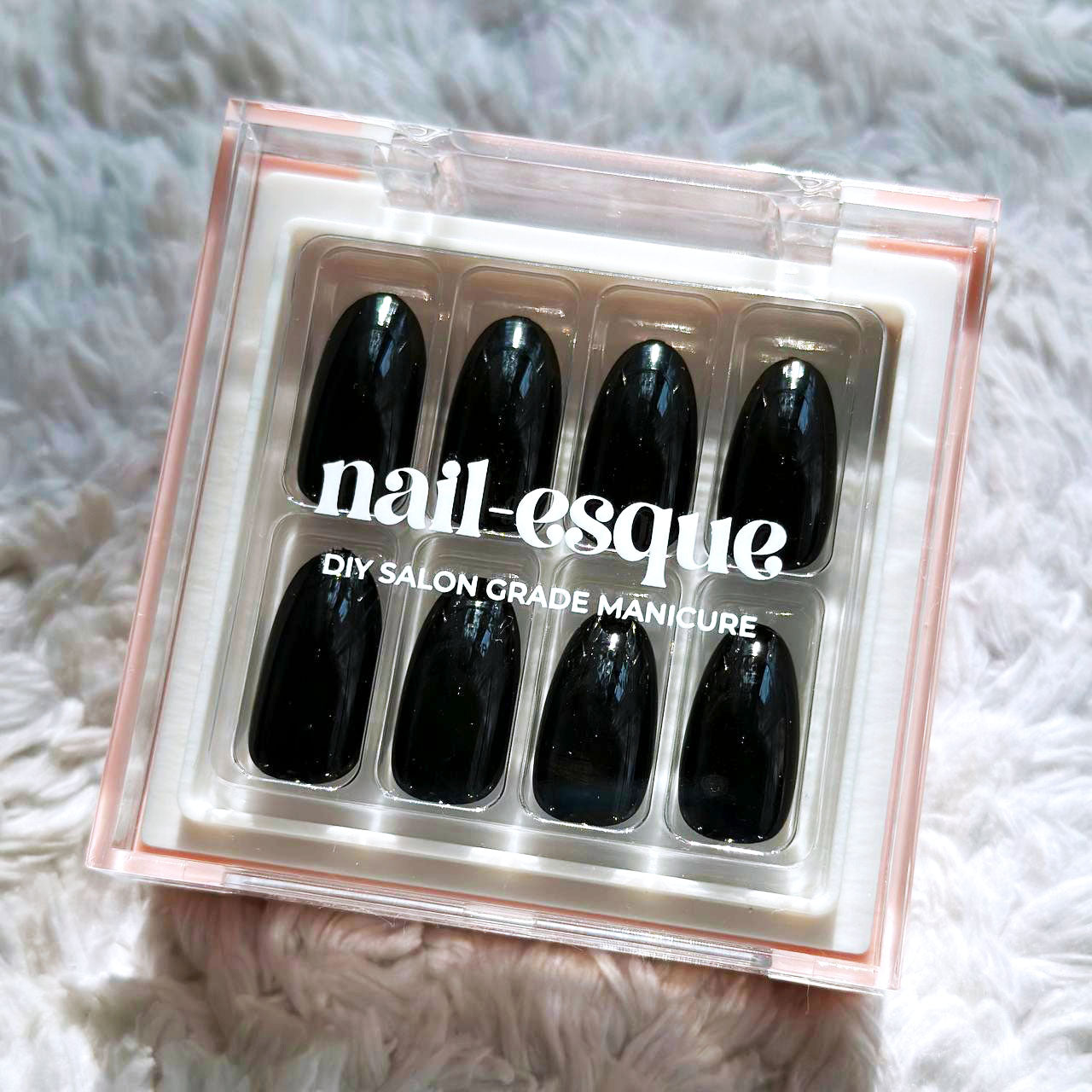 1. Prep
2. Apply Glue
3. Press On✨
FREQUENTLY ASKED QUESTIONS
What Is Included In The Nailesque Nail Palette?

Depending on the style, the nail palettes come with either 24 nails or 30 nails. All nail palettes include an alcohol pad, a nail file, a cuticle stick, sticky tabs and glue..including the reusable casing featuring two compartments!
I Have Very Small/Large Nail Beds, Will Your Nails Fit?

The great part about our nails is that they come in many different sizes. Our kits that come with 24 nails include 12 different sizes and our kits that come with 30 nails include 15 different sizes. Please know that you are also able to shape all the nails so that they fit perfectly. Also, the width of our nails can range from 6.3 mm - 14.02 mm. 
How Long Can The Nails Stay On?

The nails can last anywhere from 2-3 weeks if properly applied using the glue provided in the nail palette. For temporary & shorter application, you can stick-on using sticky tabs included the nail palette.
Are The Nails Customizable?

Yes, you are welcome to customize your nails to your perfect fit!  You can clip, file/shape, paint, and apply stickers to your nails.
Why Nailesque Nail Palette? I Prefer Visiting The Nail Salon!

There's lots of advantages to press-on nails! Here's a few:

- Saves Time & Money

- Change Nail Styles Daily/Weekly Without Breaking The Bank!

- Reusable & Environmental Friendly

- Zero Damage To Natural Nails